K-FLEX ST Class "O"
K-Flex ST is a multi purpose flexible elastomeric thermal insulation with a build in vapour barrier and a closed cell structure, this make K-FLEX insulation a high resistance to water vapour transmission which in turn enable the material to maintain a high level of energy conservation efficiency.
K-Flex ST is a dust and fiber free insulation that make it an ideal product for apartments, commercial buildings, industrial plants, oil & gas industry, marine and offshore applications.
K-Flex ST is the ideal choice for
Refrigeration pipework
Hot water piping system
Ducting system
Large pipe and tanks
Chilled water piping system
Drainage system
With 10 plants worldwide, K-Flex can uniquely provide On-Time Delivery, Consistent Product Quality and a Highly Competitive Price.
K-FLEX ST… Our Competitive Advantages
Wide range of tube and sheet with self adhesive & Aluminium foil available.
Light weight and flexible for easy and speedy installation with low maintenance resulting in time and cost savings.
CFC and HCFC free with ozone depletion potential of zero.
Non-corrosive, smoke and fire rated material.
Low thermal conductivity and high mu facture for effective control of condensation and insulating against heat loss and heat gain.
FM Approval-Provides Assurance to owners on the Quality Consistency of K-Flex products.
Low flame spread
When fire tested K-Flex ST, it does Not generate flaming droplets, and has a low fire propagation index. These combined meet the fire performance requirement of class "O" as defined in Building Regulations. Further guarantee is given by supervision contracts with independent European laboratories.
Hight water vapour diffusion resistance
K-Flex ST closed cell elastomeric insulation has a high water vapour diffusion resistance factor μ, that minimizes water vapour penetration, giving excellent long term performance.
Very low thermal conductivity
K-Flex ST thermal Conductivity is ∆0℃=0.033W/(M.K). The thermal conductivity coefficient is the most important facture in calculation focuses on energy saving
Technical Specification For K-Flex ST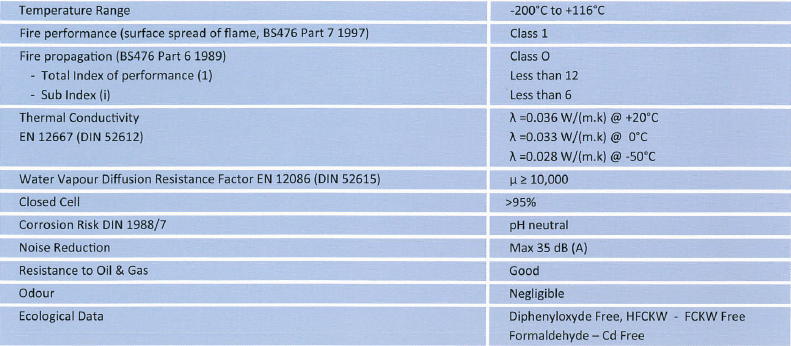 K-Flex ST Tube Size Range : 2 metres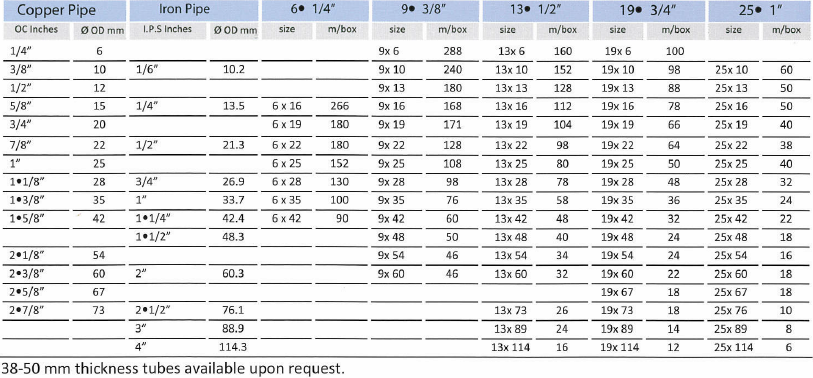 K-Flex ST Sheet rolls


K-FLEX ST tube is available in 2 meters length. In sheet form, K-FLEX ST is available in roll or pre-cut sheet. All sheet material is available with or without self adhesive and/or self adhesive & Aluminium foil.
Accessories
Self Adhesive Tapes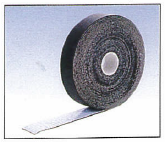 Pipe Support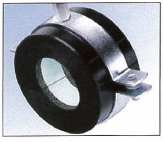 K 996 Glue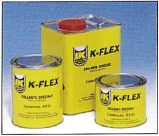 Aluminium Tape